Redneck Hillbillies developed as an offshoot of our YouTube Channel, Facebook Fanpage and Blog under the same name. We're small town, back to basics type folk that live out of the city limits and we can laugh at the stereotypes of backwoods rednecks and hillbillies like ourselves! We love our simple country living and identify with the confederate flag waving southern rebel rednecks with their big, muddy trucks and passionate beliefs. Our products range from funny redneck sayings or labels, to photography taken around our small farm. Visit our store here:
Redneckhillbillies
Here's one of our favorite products: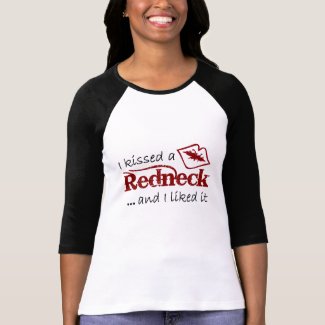 Kissed A Redneck
by
RedneckHillbillies
See other
Redneck woman T-Shirts
I like this one because it's simple, easy to read and understand - and plays off modern culture as its a spoof of a popular song. It's cute, fun, lighthearted - and people usually smile and laugh when they read it. It has sold twice too, so that helps my opinion a little bit!
"You know your a Zazzler when . . ."
Everything you see, hear and even smell has you wondering "Could I make a (tshirt, magnet, apron) out of this?
1 good piece of advice for new Zazzler's:
Try to find a niche that isn't already heavily saturated, and then do your utmost to create quality products that fit your theme.
Here's my favorite from their store: