Wild Williams Zazzle store has a variety of "handmade" items. I have always been amazed by the beauty of the natural world and historic cultures. I have been drawing cartoons since grade school and over the years I have developed my own style of art and a "slightly wacked out" sense of humor.
Many of my designs are inspired by traditional southwest art and derived from close study of Native American motifs. Other designs such as my cartoons
incorporate
the personality traits of pets I have had throughout the years. Pet owners know that each animal possesses unique personality, perhaps better coined as pet-sonality traits, which can be endearing and recognized in my cartoon renditions.
I am now an art teacher and I enjoy the research of ancestral design and depicting animals as cartoons with humanistic traits as much as I take pleasure in the design process.
A favorite cartoon design is "Cat Chaser", which can be found on a t-shirt at: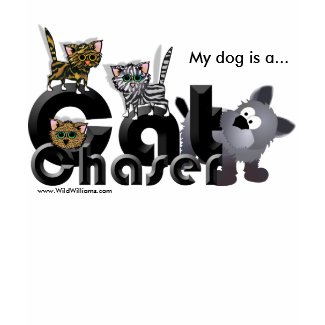 Good Dog Stuff for People
by
WildWilliams
design your own t shirts
using zazzle
Q: Tell us WHY they are your favorites!
A: I love creating cartoon animals and developing their personalities to match real animals I have known.
Answer the question "You know your a Zazzler when . . ."
…you go to bed and a new idea for a cool design pops into your head, then you dream about it and upon awakening you start sketching out your idea all day long on any available scraps of paper, by midnight you realize it is time put away your canvas or get away from the computer and go to bed.
Add 1 good piece of advice for new Zazzler's.
Develop your own style and be original! Buy one of your own products on a mug or mouse pad to keep you inspired and to remind you to work on your Zazzle creations daily. Don't fall in love with your work and use it right away, wait 24 hours after finishing your design so you can look at it with fresh eyes and see if the design needs something. Quality and originality are key factors for creating winning designs.
Bloggers Favorite items: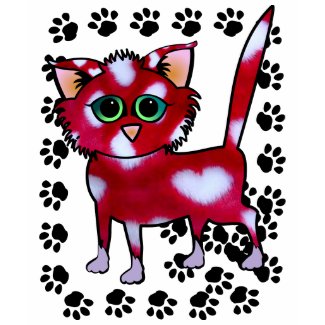 Wild Cats
by
WildWilliams
Browse
Cat T-Shirts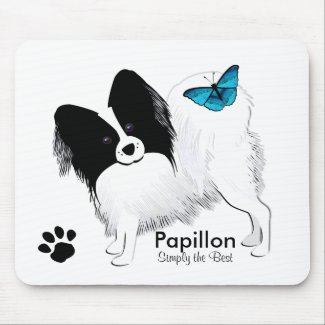 Papillon
by
WildWilliams
Make
custom mousemat
at zazzle
Lily Dragons
by
WildWilliams
Browse other
Lily Keds Shoes